The hand tool set is an integral part of every home. Both hand tool set factories need them to solve certain problems. That's why it's important to have a basic set of things in your garage. Hand tools have been in this world for a long time. Whether you're looking for hand tools for woodworking or do the titular home repair work yourself, you have to be eager to buy the best tools from the many options available.
Things to Consider When Buying Hand Tools
comfortable
For single handle tools, including hammers, chisels, nut drivers, and a variety of other tools, you should pay due attention to the comfort the tool must provide the user. Check handle diameter, grip material and grip span for safe and efficient tool handling.
price
Price is one of the most important factors, keep in mind that establishing a budget can help you narrow down your search. By determining your budget, you will be able to focus on the products available in that price range, which will make the selection and buying process easier and less time-consuming. Hand tool prices in India vary by brand and place of purchase. To get the best quote on hand tools, you should consider purchasing the tools you need from an online store.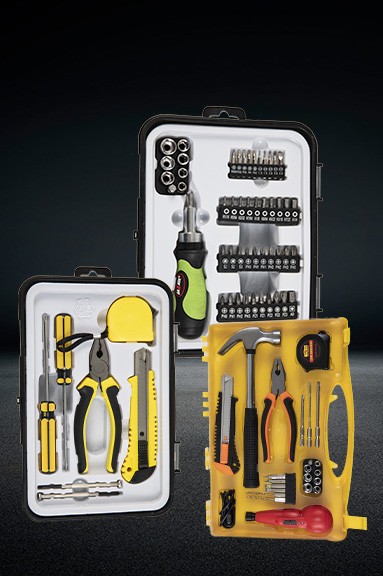 Repair Tool Kit Multi Function
13 PCS HOME TOOLS SET
Content:
1 pc PVC tape
1 pc Utility knife
1 pc Hardware box
1 pc Digital elextric tester
2 pc Screwdriver 6*100mm
2 pc Screwdriver 3*75mm
1 pc Tape measure(3M)
1 pc 6"Combination pliers
1 pc 8"Adjustable wrench
1 pc Claw hammer(8oz)
1pc Blow case