Hand tool set manufacturers have a variety of options for their customers. Some are specialized for specific uses such as forestry, while others focus on general hand tool sets. One of these hand tool manufacturers offers a line of precision cutting hand tools, which are useful in a variety of applications, such as cutting wire ropes and cables. These hand tools are used in various markets, including the transportation, metals, food and beverage, construction, and architectural industries.
The hand tool set industry is segmented by type, end-user, and distribution channel. Types of hand tool sets include screwdrivers, chisels, pliers, wrenches, and hand saws. Among these, wood chisels and hand saws comprise a large part of the company's product line.
Besides the standard hand tool set, these manufacturers also provide custom hand tool kits and other specialty tools for various industries. Some of these hand tool manufacturers offer double shot sockets, strap wrenches, and valve key wrenches. Other products include T-handle torque wrenches, ratchets, lineman's wrenches, and observation windows. In addition, they offer hydraulic tools and jacks, and repair parts for them.
A hand tool set includes the tools that are essential to any home project. These hand tool sets can be designed for specific tasks, such as gardening and woodworking. Some sets even include screwdrivers and pliers for specific tasks. These hand tool sets are a necessity for every homeowner. They can also help with little emergencies like tightening a bolt or tightening a screw.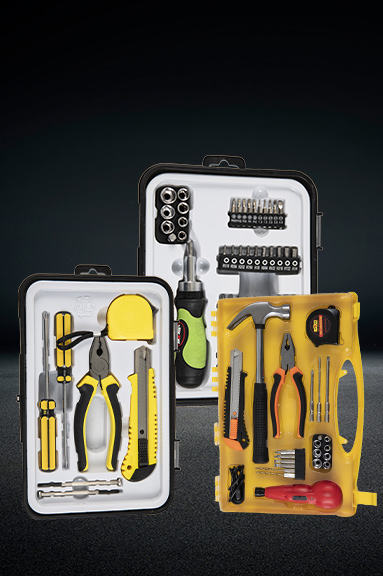 Hot Sale Hand Tools Set DIY Household Hardware Repair Box Set
1 pc Claw hammer(8oz)
1 pc 6"Long nose pliers
1 pc Measuring tape (5m*19mm)
1 pc Utility knife
10 pc Handle
1 pc Digital elextric tester
2 Screwdriver "+" PH0*75mm "-"3*75mm
1 pc PVC tape(2m)
10 pc Cutter blades
9 pc Heat treated Socket:5,6,7,8,9,10,11,12,13mm
8 pc Hex key:1.5,2,2.5,3,4,5,5.5,6mm
10pc Power bits:PH1,PH2,PH3,PZ1,PZ2,PZ3,4mm,5mm,6mm,ADP