1. Before using Glass Suction Cups, first check whether the rubber suction cups, plastic tubes, power cords, and hooks are in good condition.
2. When using Glass Suction Cups, the lifting speed should not be too fast, so as not to damage the rubber suction cups, plastic pipes, connecting cables and make the vacuum pump lose its normal use function.
3. The 90° turning mechanism of the vacuum suction cup hoist needs to be lubricated according to the regulations. It is forbidden to touch the turning mechanism with hands or other objects during work, and avoid twisting into the gear transmission mechanism.
4. The vertical height of Glass Suction Cups from the ground should be less than 1m during the suction operation. When encountering obstacles on the ground, it needs to avoid or detour, and it is forbidden to run on the head of the staff.
5. When the vacuum suction cup is not in use, it is forbidden to drop the suction cup directly. It is necessary to install 4 feet and fasten them with fastening bolts to fix the position.
6. The suction cup crane should be reliably connected with the crane to ensure the safety of the hook and prevent it from falling off, and the spiral cable should avoid the danger of entanglement with the crane wire rope.
7. The surface of the segment to be sucked and hoisted should be flat, free of impurities and oil, to ensure the safety of the hoisting.
8. The wearing parts should be checked regularly and replaced in time. When the suction crane fails, the professional should be notified for maintenance, and unauthorized disassembly is prohibited.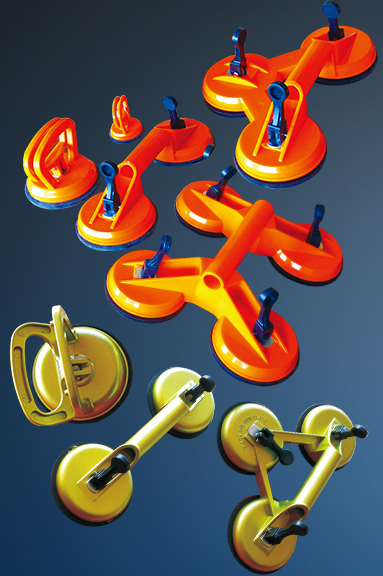 Double claw vacuum rubber glass sucker for tile ceramic installation tools
Zhejiang Xinchang Brother Tools Co.,Ltd,which is found in 1980,covers 1200 square meters It is from Xinchang city,the neighbor with Ningbo port. As a famous OEM Double claw vacuum rubber glass sucker for tile ceramic installation tools Suppliers and China Double claw vacuum rubber glass sucker for tile ceramic installation tools company