1. Advantages of ratcheting screwdrivers
The advantage of the ratchet screwdriver is to use the ratchet to improve work efficiency and reduce labor intensity. In addition to this advantage, the advantages of the ratchet screwdriver are:
(1) The one-way design of the ratchet makes it unnecessary to go backward in the whole process of screwing. It is very easy and suitable for home use.
(2) The ratchet screwdriver comes with a high-torque ratchet, which is very useful when screwing some screws with a long thread. In other words, when the card is unilateral, the screw can be quickly tightened by turning the wrist no more than 45 degrees, which is very convenient. .
2. Disadvantages of ratcheting screwdrivers
Although the ratchet screwdriver is labor-saving, it also has certain shortcomings. First, it has a built-in ratchet device, which is heavier than ordinary screwdrivers and is not so convenient to carry; secondly, the ratchet screwdriver has a corner, which is not convenient to use in a narrow space.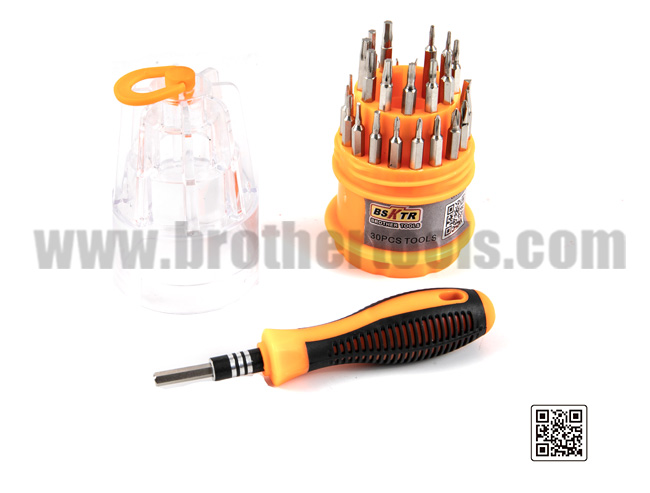 Zhejiang Xinchang Brother Tools Co.,Ltd, which is found in 1980, covers 1200 square meters. It is from Xinchang city,the neighbor with Ningbo port. As a well-known China Ratchet Screwdriver Sets Manufacturers and custom Precision Screwdriver Sets factory, from the begin ,we just produced steel files, but in the past 30 years, we have developed a lot of other hand tools, including Wood chisel, Screwdrivers, Tool kits, Hex keys, Suction cups, Hand saws are all covered.All of the wholesale Ratchet Screwdriver Sets are exported to over sea, like Germany, USA, France......and etc. From 2002, we registered our own brand SAKATA, now it is known in a lot of countries as we SAKATA brand is registered in 12 countries like USA, UK, France, it can be found hand tools under our brand more and more countries now.